👋 Hey there female solopreneur ready to make your dream biz a reality!



🤔
There's only one thing stopping you - you know you need a web presence that gets you clients on autopilot, but have NO IDEA where to start.
Do any of these sound familiar?
✔ You're feeling overwhelmed with all the choices out there
✔ You've spent hours and hours researching how to DIY your website with little progress
✔ You have a basic website but it's giving you serious website shame and you know you and your potential clients deserve better
✔ You don't have 1000s of dollars to hire a designer, you also don't know how in the world you're supposed to figure out the tech stuff on your own
What if I told you that you could...
✔ Build a brand & website you love in a week?
✔ Do-it-yourself even if you're not a techie?
✔ Get personal feedback from a pro every step of the way?
✔ Launch your business on a small budget and start making money?
Good news - you can! I've been in your shoes and I'm here to help you.
And the best part, I have put together all my know-how into a tailored 1-on-1 mentorship so you'll not only rock the web but also save $$$ along the way.
Truth bomb: Your efforts thus far haven't helped you to launch your website one bit.
Maybe they've given you some great ideas, but you still somehow backslide into old habits or overwhelm.
You're starting to just give up altogether because it's looking like NOTHING will work. I know because I see my clients struggle with this over and over again, which is why I'm so excited to bring all of my expert solutions to YOU for a fraction of the cost.
Your Web Mentor is Here to Help!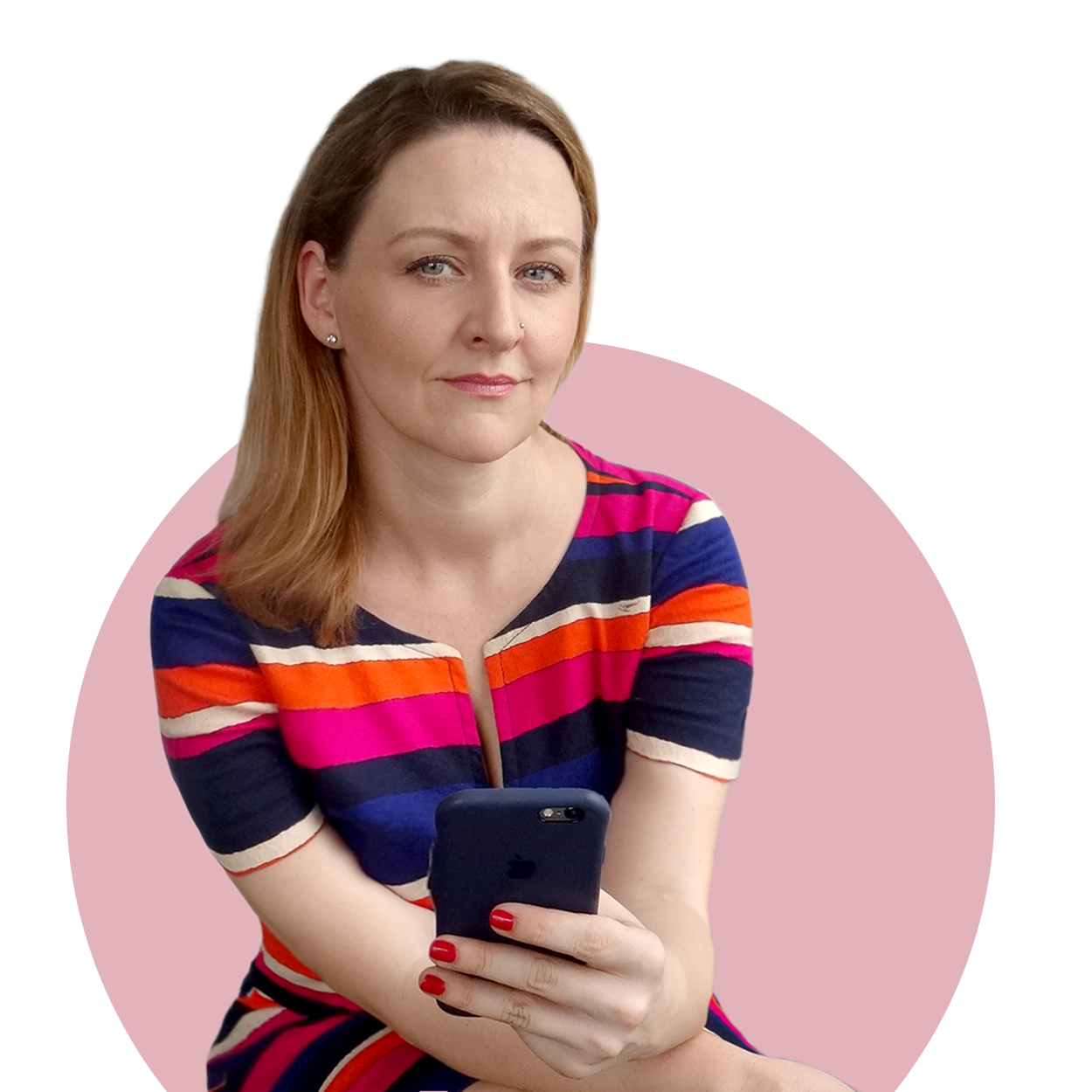 My name is AnitaM & I'm a Web Mentor & Course Creator for Female Solopreneurs.
I teach go-getters & lady bosses how to embrace tech so they can turn their passion into profit and launch their dream business & website with ease.
Over the years, I've helped many self-proclaimed "non-techie" women in biz from all over the world to build their own web presence with my simple #Layout2Launch method and also designed many websites for my international clients.
For more info about me visit anitam.com
Let me tell you, from the experience I have gained over the years, I know it's not YOU it's the approach you take to create your website. But worry not, I have developed a system that will guide you through all stages of the launch process with WordPress. All you need is an open mind, commitment to get the job done and my #Layout2Launch method.
Let's be honest here for a minute, overwhelm can "kill", right?
If you were serious about learning another language, you wouldn't only depend on YouTube to teach you. It's the same with your web presence, why do you think it costs so much to get your website designed by a pro?
It's simple, designing a website is a process which includes planning, installing, creating, designing & launching. Now you do the math … it's safe to say you can't possibly figure it all out in one day unless you have an expert guiding you along the way from start until the big launch day of your client-winning web presence.
Because you know what happens when you finally have it all figure out?
👍 You wake up every morning EXCITED to work in your business (not on it), because you have the system & knowledge you need to handle it like a PRO.
👍 The dollars come flooding into your business and you book clients with ease because you're CONFIDENT to share your website with the world wide web & beyond .
👍 You have more confidence as a solopreneur now that you're not STRESSING about your web presence at all.
Imagine being able to achieve all of that in 30 days with #Layout2Launch that you can use again and again. For real.
Introducing …
WEB MENTOR INTENSIVE
The only program you'll need to launch your entire web presence in 30 days!
It will only take us 30 days to turn your vision for your web presence into reality. You'll be asked to complete small yet to the point DAILY LESSONS accompanied by clear ACTION STEPS, weekly MEETINGS as well as 1-on-1 SUPPORT. And at the end of the mentorship, you will be a proud owner of a client-winning website designed by YOU!
Now tell me, are you ready to go from Layout to Launch with your web presence with expert support by your side in only 30 days?

 LIMITED TIME OFFER!
WEB MENTOR INTENSIVE FOR ONLY $497
 INSTEAD $997
Here's what you'll be learning in 30 days:
📆 Week ⓵ -
Master Your Plan & Prep
📆 Week ⓶ -
Setup for Endless Success
📆 Week ⓷ -
Design Your Web Presence
📆 Week ⓸ -
Launch & Start Making $$$
Here's what you get when you join:
👉  3-Step Website Design with WordPress ($900 value) - These modules are PACKED with on-demand videos, workbooks, checklists and more. There's no such thing as passive learning in this program. We're getting to WORK! And by the end, you'll have your client-winning web presence launched in no time.
👉  Weekly Meetings & Private Chat ($500 value) - 1-on-1 support done the right way. Together we will go far from creating your plan of action to weekly co-working sessions and private chats, accountability is big around here in Web Mentor Intensive land.
👉  Course Tech Setup or Digital Product Creation ($350 value) - No matter if on your own website or third-party platform, together we'll turn your course content into an online course so you can start earning passive income from all your expert know-how. And if you're not ready for a course we can create your first digital product to rock the web & grow your audience.
👉  Resource Library & Tech Tools ($200 value) - In addition to design modules with all you need to know about DIY website launch, you'll get access to Q&A's to answer all your questions, video tutorials, must-have tools for web designers, and a library filled with the latest info about web design.
👉  Social Media & Email Integration ($100 value) - Web presence is only completed if all the pieces play nicely together. We'll make sure your website is able not only to share your amazing content with the world wide web but also you're all set to capture your website visitors' info and nurture them with automated emails along the way.
👉  WordPress Bootcamp ($50 value) - This online course will serve as your WordPress foundation training. It has everything you'll need to learn broken up in short, easy-to-digest chapters. It includes video tutorials so you can apply what you learn to YOUR web design process, right away.
👉  30 Days of Tailored Content (priceless) - The program is structured to meet YOUR goals and needs from the start. With flexible timing, you'll be in the "driver seat" to match your busy schedule but don't forget work has to be done if you want to go from Layout2Launch in no time.
TOTAL VALUE: $2100
YOUR INVESTMENT: $997
LIMITED TIME OFFER: $497
It's time to make that big idea of yours a reality!
Wait, is this course right for me?
✅ This course is a fantastic fit for you if:
You are a coach or freelancer who wants to sell services or digital products online
You don't want to spend thousands of dollars on a website
You want to launch your business and start making money right away!
You are serious about building a strong online business
❌ This course isn't the best fit for you if:
You'd rather hire a professional to handle your brand/website
You don't care about spending a lot of time trying to figure out on your own
You don't mind it if you don't get clients right away, and learn by trial and error
Here are few more facts:
➡️ Yes, I've walked in your shoes years ago, and made it my mission to collect all the answers you may need or want when it comes to successful online business. So, I've decided to package my knowledge and offer it to you so you can save time, money and launch your client-winning web presence in no time.
➡️ Sure, you can head to my website now and get busy puzzling together some of the information I'm sharing in this course but be warned, it may take "forever" before you actually get to launch your website. Trust me, you're better off to invest in the Web Mentor Intensive and start generating profit instead of searching for an answer.
➡️ And, in case I fail to meet your expectations with Web Mentor Intensive, I'm willing to refund your money after we had our initial call but only if you can prove to me you have done all the work required in the program.
Frequently Asked Questions:
❓ HOW LONG DOES IT TAKE TO SEE RESULTS?
We will spend 30 days together to plan, design & launch not only your website but everything else that you need to run a successful online business.
❓ IS THIS RIGHT FOR ME IF I HAVE NO TECH SKILLS?
Sure, the Web Mentor Intensive program is designed to teach you how to work with all the tools required to run a successful online business and manage your WordPress website without knowing how to code.
❓ I'VE SEEN SIMILAR OFFERS IN THE PAST - WHAT MAKES THIS DIFFERENT?
I can't speak for other programs you may have seen around the web but Web Mentor Intensive has been tested "in real life" before its launch so it's a package that will take you from "oh so tech overwhelmed" to web presence rockstar in no time.
❓ HOW DO I SCHEDULE MY 1-ON-1 SESSIONS?
Upon gaining access to the Web Mentor Intensive, you'll receive further instructions on how to book your sessions.
❓ WHAT IS I DON'T HAVE MUCH TIME TO SPEND ON IT RIGHT NOW?
Since the program is designed to match your lifestyle and business goals I have built in flexible scheduling with ample time to complete it but of course in order to see results you have to make time, right.
❓ HOW MUCH TIME DO I REALLY NEED TO DO THIS AND GET RESULTS?
Let's be honest, you could knock the design process in only a few days, but after years of experience, I know what works best and will yield the best results. Hence, I've created the 30-day plan of action to launch your website with WordPress.
❓ CAN I PURCHASE THE WEB MENTOR INTENSIVE MORE THAN ONCE IF I DON'T FINISH WITHIN 30 DAYS?
Absolutely! If you find yourself in need of more 1-on-1 time, simply purchase the Web Mentor package again, unless we agreed prior to spread it out over longer period of time.
❓ WHAT IF IT DOESN'T WORK FOR ME?
I will be by your side almost 24/7 so it's almost impossible for you not to go from layout to launch. But, if you feel that the program is NOT for you after our initial kick-off call I'll be more than happy to refund your money.
❓ WILL IT BE A GOOD FIT FOR ME?
If you want to rock the web in 2021 and would like the expert advice on stand by while creating your web presence, then this is exactly what Web Mentor Intensive offers.
❓ DO YOU OFFER REFUNDS?
If you are unsatisfied with your coaching, reach out to me to see if your purchase is eligible for a refund.
Here's what happens after you click that magical button below!
You'll be taken to a page with ONE payment options: $497. That's all to start your adventure with any major credit card to complete your enrollment. Rawr!
Right after you pay, you'll get a confirmation email with all of your fancy mentorship deets (where to go, how to log in, where to find our delicious online community, etc). Hello immediate access to my treasure trove of goodness!
Next, you'll schedule our kick-off call so we can properly get to know it each and map out our next 4 weeks together until the big launch! Get it, boss!!
You'll tweak, plug, play and PROFIT. Plus, share any questions or celebrations in our Website in Week community. Oh yeah. Let's do this thing!
 LIMITED TIME OFFER!
WEB MENTOR INTENSIVE FOR ONLY $497
 INSTEAD $997
It's now, or never, to your client-winning web presence!
You weigh the options:
❌ Use $497 to buy a premium WordPress themes and few DIY courses yet still have NO clue how to properly set up your online business like a pro?
✅ Or invest $497 to get all the web presence setup + know-how + mentorship that will turn your website into a profitable online business? (Oooh La La!)


But like all good things, this deal WILL come to an end. And then these WordPress goodies will be ABSOLUTELY gone.
So don't be late! You only have FEW days to snag the goods before enrollment closes.


Your intake form has been submitted. Check your email for a copy of your responses. If you're accepted, you'll receive an email with a link to checkout.