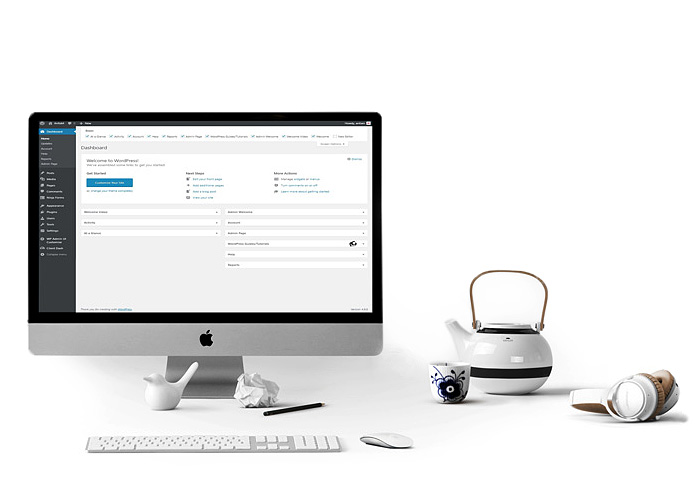 Let's build your website in days and not months!
Together, we'll create your plan of action for launching
your brand-new WordPress website in a week.
If you're frustrated with your limitation of successfully navigating WordPress,
working with a limited budget, or simply need help to bring your creative vision to life,
The Web Mentor Program is all you need for successful WordPress website launch!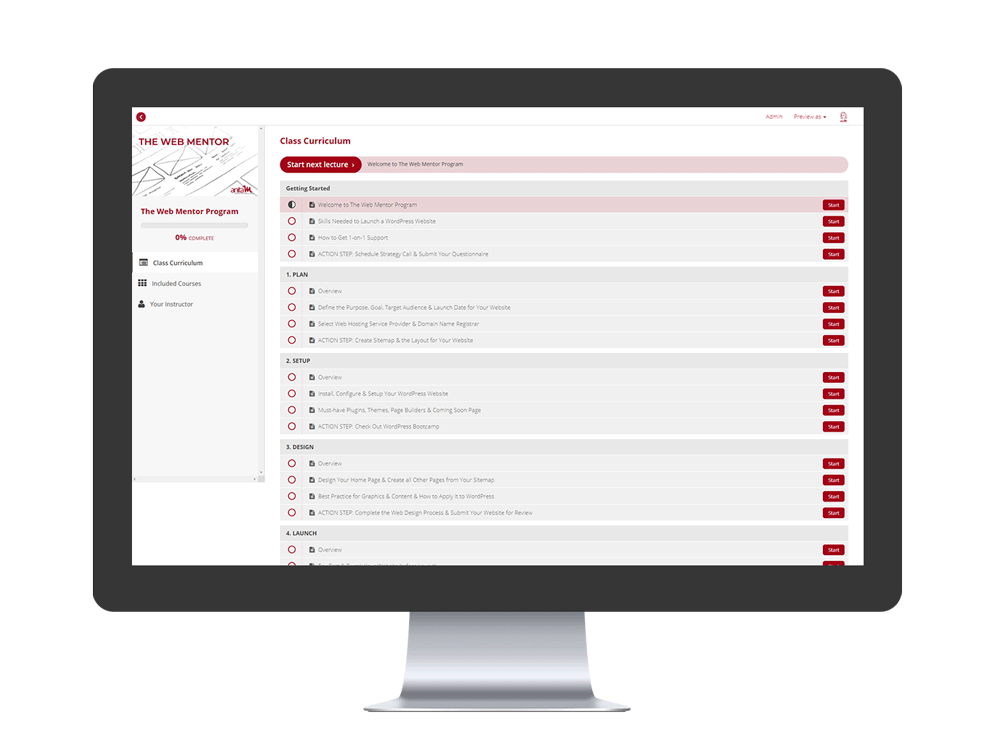 But first, here is a preview of what we'll accomplish in The Web Mentor Program:
✔️ Introduction to WordPress, and how to come up with with a master plan (PLAN)

✔️ Gather & install all tools necessary to make everything run smooth (SETUP)

✔️ Dive into content creation, SEO and the design of your WordPress website (DESIGN)

✔️ Try, test and tweak until your brand-new website is ready to go live (LAUNCH)

✔️ Look into social media sharing, web traffic and lead generation (SHARE)


---


THIS COURSE IS PERFECT FOR YOU IF:
👍 You need a website for your business & want to give "do-it-yourself" a try
👍 You don't have the budget (yet!) to hire a professional designer/developer
👍 You're interested in learning WordPress, but have no idea where to start
👍 You have tired to use WordPress before but it just didn't work out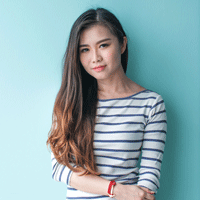 "Shortly after signing up for The Web Mentor Program, I was able to see my brand-new website come to life. And best part, I designed it all by myself."
- Thuy N, Social Media Marketer
AND FACT IS ...
No matter how you want to turn or twist it, you may think you're saving money by going the "do it yourself" way but you'll have to invest hours into getting your website right will end up costing you way more!
"Hidden" cost associated with launching a website can run up into hundreds of dollars. The cost of The Web Mentor Program is less than $300 to design your WordPress website and stay within your budget!
This course comes packed with step-by-step guides, downloadable WordPress starter pack, workbooks, free theme and page builder, major discounts for web hosting + domains, and 1-on-1 access to professional support!
By enrolling, you'll get access to WordPress Bootcamp for FREE - a collection of video tutorials for WordPress!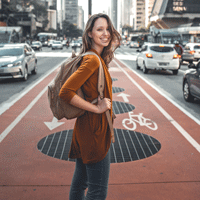 "With the help of The Web Mentor Program, my travel blog is now looking so much better. I'm so proud to show off my website now!"
- Hannah B, Travel Blogger
TAKE A LOOK AT THE COURSE OUTLINE:
GETTING STARTED
Preparation is the most important step. I will share details of the web software platforms that are useful for creating a professional website as efficiently as possible. Some of the topics covered are:
What is WordPress and its key features
Skills needed to launch a WordPress website
Available discounts to stay under budget
MODULE 1 - PLAN
As the saying goes — if you fail to plan, you plan to fail. Planning is an essential part of building a website and will determine the success of your project. This module will explain how to plan your website in a way that ensures its success. It will go over:
Defining the purpose, goals and target audience for your website
Creating the structure that your website requires (sitemap & responsive design)
Defining a timeline & content strategy for the websites
MODULE 2 - SETUP
The SETUP stage is about finding the right tool for the job. I will share details of the web software platforms that are useful for creating a professional website as efficiently as possible. Some of the topics covered are:
Gather whatever necessary to create a WordPress website
Sign up for reliable, secure, and affordable web hosting & domain.
Must-have plugins, best themes & page builders in the market
MODULE 3 - DESIGN
The next stage will delve into the techniques that are used to create your WordPress website. It will will explain:
In depth look at the WordPress website creation process
How to create SEO-friendly & converting content (visuals & copy)
Insights into creating & adding content to your WordPress website
MODULE 4 - LAUNCH
Before the website launch, I will walk you through the entire website testing process. The part of course will explain how to perform WordPress website testing.
The website launch process from schedule to backup
How to test websites in different browsers & gadgets
Ways to monitor your website's performance and speed
MODULE 5 - SHARE
The last module in the course will take a closer look at marketing your WordPress website using social media & email marketing. We will explain:
Why social media is important tool for marketing your brand-new websites
Different ways to set up an effective presence on various social media platforms
How to incorporate email capture functionality into your WordPress website
IT'S TIME TO CELEBRATE!
Now, you can go on an celebrate as you have successfully completed the course and are set to impress the world wide web with your new web presence with the help of The Web Mentor Program.

Your Instructor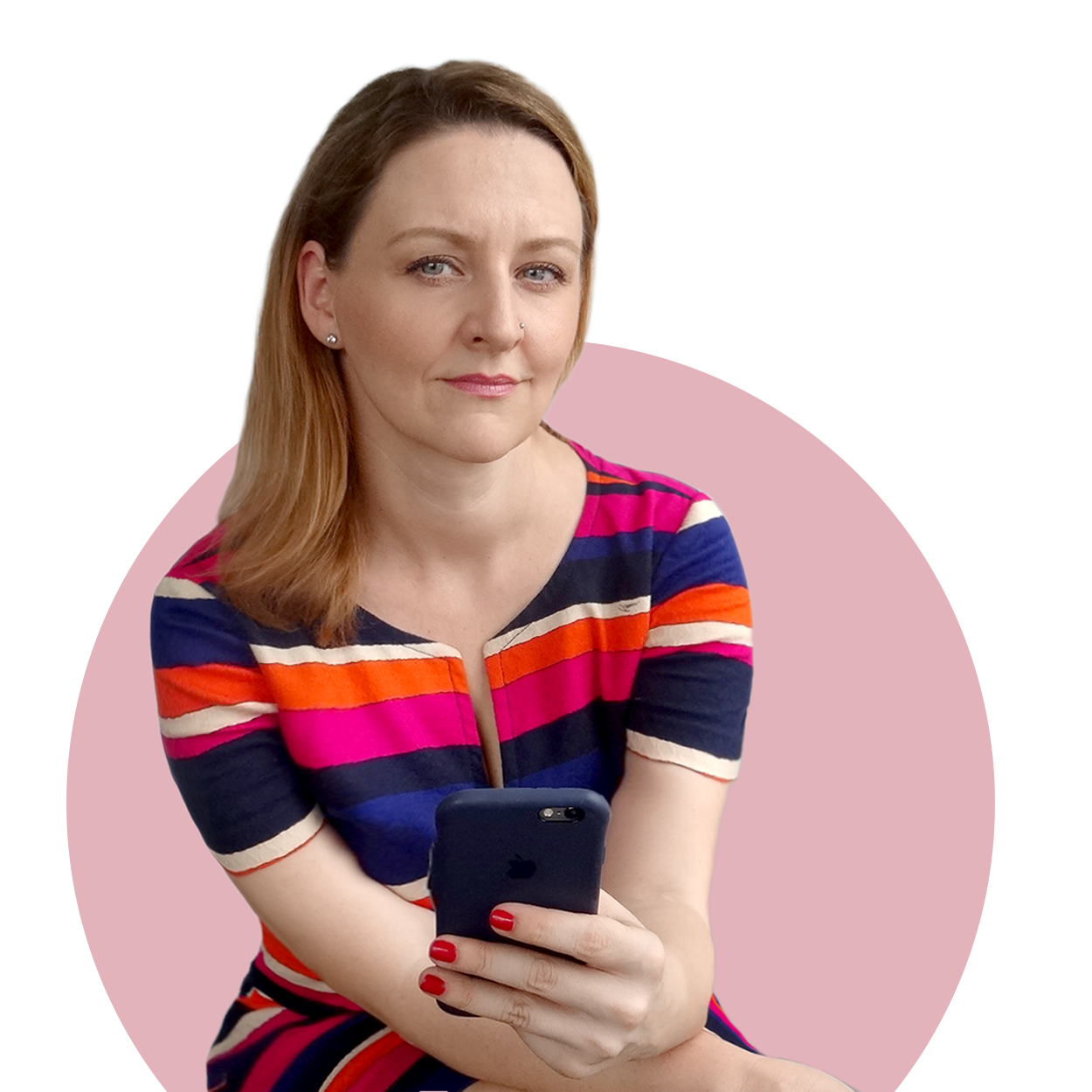 I'm your Web Mentor & Course Creator for Female Solopreneurs.
I teach go-getters & lady bosses how to embrace tech so they can turn their passion into profit and launch their dream business with ease.
Over the years, I've helped many self-proclaimed "non-techie" women in biz from all over the world to build their online businesses with my simple #Layout2Launch system and #Profit2Passion method in no time.
For more info visit anitam.com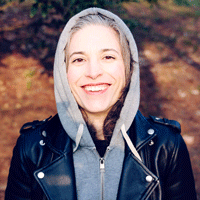 "Thanks to The Web Mentor Program, I am now in charge of running my dream business & my WordPress website."
- Anne P, Digital Content Creator
Frequently Asked Questions
When does the course start and finish?
As soon as you sign up, you get immediate access to the course content. Besides the initial strategy call, it's completely self-paced. You can do it in a week or take your time to go through the material.
How long do I have access to the course?
How does lifetime access sound? This means once you buy, you get access to all future upgrades of the Web Mentor Program.
What if I am unhappy with the course?
I am 100% confident in the quality of The Web Mentor Program. If you demonstrate that you have completed all the work but do not have a functional website, I will refund your fee.
Can a non-techie do this?
Absolutely! This course was designed for beginners. Plus, you'll have help from me every step of the way.
Do I have to use WordPress?
Yes! This is the platform I've chosen due to its endless options, functionality, and ease of use.
How is the course delivered?
Lessons are comprised of videos tutorials, worksheets, easy-to-follow written instructions, and 1-on-1 sessions with me.
Still have questions?
I'm happy to answer any questions you may have so you can determine if this course is right for you! Email me at
[email protected]
and I'll get back to you asap.